About Dr. Carolyn Barrett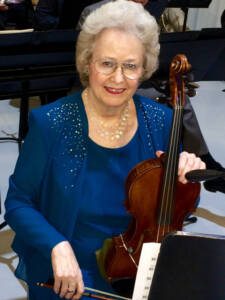 Dr. Carolyn M. Barrett, director of the Suzuki music Studio in Reston, Virginia, U.S.A., and the author of The Magic of Matsumoto: The Suzuki Method of Education, also founded Suzuki method studios in Lagos, Nigeria, and Seoul, Korea. The Seoul studio trained sixty students weekly and instructed British, Korean, and American educators in using the Suzuki approach in teaching stringed instruments, especially the violin. The Seoul studio was directly supervised by Dr. Suzuki; students sent tapes to him for graduation certification. Dr. Barrett traveled three times to Matsumoto, Japan to study with Dr. Shinichi Suzuki.
Dr. Barrett gives group and individual instruction in violin, viola, cello, and piano using both traditional and Suzuki educational strategies. She has thirty years of teaching experience. The Reston studio presents recitals and gives performances in the Washington, D.C. metropolitan area. Students have soloed with the Washington Symphony, concertized at Presidents Park, and participated in concerts at Wolf Trap, Constitution Hall, and the Kennedy Center.
As a performer, Dr. Barrett has been a choral and instrumental conductor, violinist, pianist, cellist, and violist. She was a violinist with the Spokane Symphony Orchestra, Twenty-First Century, a piano trio; Trio Allegro, Pro Musica Lagos, and the Yongsan Chamber Music Society. She is a piano accompanist for Suzuki recitals and accompanied performances and classes at the Cassarno Ballet Studios in Portland and Lake Oswego, Oregon.
Dr. Barrett has a Ph. D. in English and was a professor at George Mason University in Fairfax, Virginia teaching advanced English Composition, English, and American Literature. In 1999, she presented the white paper, "Reinforcement in Suzuki Education", to the Association for Behavior Analysis.
In addition to a full schedule of music students in her Reston studio, Dr. Barrett also performed concurrently as violist with the Loudoun Symphony Orchestra and as cellist with the Loudoun Symphony String Workshop. She is past president of the Suzuki Association of the Greater Washington Area (SAGWA) and served as Director of the 1998 Suzuki Centennial Celebration at Constitution Hall for SAGWA.  Dr. Barrett has performed at the White House,  President's Park, and the Executive Mansion with the Washington Symphony Orchestra., and Twenty-First Century, a piano trio.
The Magic of Matsumoto: The Suzuki Method of Education
When Dr. Barrett sent the final manuscript of her book to Dr. Suzuki in October of 1989 as a birthday present for his 91st birthday, she was thrilled to receive a letter with his thanks. Dr. Suzuki said, "I am pleased that you have a profound understanding of my method." In addition, Dr. Suzuki endorsed the book, saying "I believe that this book will deepen the understanding of the Suzuki philosophy and movement and will be of help to parents and the worldwide movement for all children's happiness."
The book chronicles the biography and history of Dr. Suzuki. It also shares some of the psychology and spiritual elements at play in the Suzuki approach.