October 22, 2022 0 0 comments 0
As the pandemic necessitated online learning, I was at first very concerned that it might be inferior to in-person learning.  With the help of my students who were more tech-savvy than I, we overcame some initial challenges and learning seemed to be moving along well.  Groups were especially challenging until a student came up with
October 2, 2022 0 0 comments 0
Click Here to Download PDF Version Virtual Group Lessons and Recital Dates 2022-2023version 1 – updated August 4, 2022 Below are the dates and times of the virtual Saturday Group Lessons, Recitals, and Dress Rehearsals. Usual times – for virtual Saturday Group Lessons are 2:00 – 3:15 p.m. for strings and 3:30 – 4:30 p.m.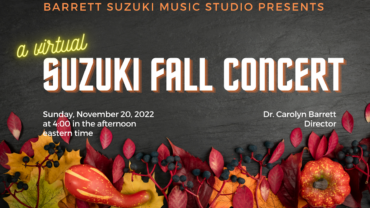 October 2, 2022 0 0 comments 0
Preparations are now underway for the virtual Barrett Suzuki Fall Concert on November 20, 2022 at 4:00 in the afternoon, eastern time, under the direction of Dr. Carolyn Barrett. Students of Barrett Suzuki Music Studio will be focusing on their repertoire for this first recital of the school year.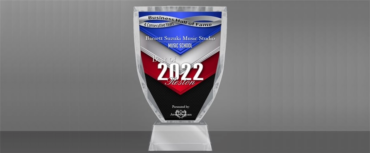 January 15, 2022 0 0 comments 0
FOR THE FIFTH YEAR IN A ROW! Barrett Suzuki Music Studio has been selected for 2022 Best of Reston Award in the Music School category by the Reston Award Program. Each year, the Reston Award Program identifies companies that we believe have achieved exceptional marketing success in their local community and business category. These are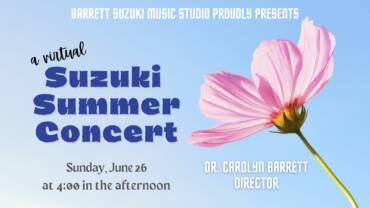 August 22, 2021 0 0 comments 0
Includes dates and times of virtual recitals and groups. Usual times for virtual groups are Saturdays 2 to 3:15 pm for strings and 3:30 to 4:30 pm for piano. Please arrive in the Zoom room at Call time. Call (Arrival ) for group lessons is 10 minutes before start time. Call for Dress Rehearsals and
RESTON June 18, 2020 — For the second year in a row, the Reston Award Program selected the Barrett Suzuki Music Studio for the 2020 Best of Reston Award in the Music School category. Each year, the Reston Award Program identifies companies that they believe have achieved exceptional marketing success in their local community and

"The Reston studio presents recitals and has performed throughout the Washington D.C. metropolitan area since 1992. Students have soloed with the Washington Symphony, performed at President's Park and participated in concerts at Wolf Trap, Constitution Hall, and the Kennedy Center. The students have also given recitals at the Reston Community Center, Lake Anne. Often musicians
September 7, 2019 0 0 comments 0
RESTON September 7, 2019 –Barrett Suzuki Music Studio has been selected for the 2019 Best of Reston Award in the Music School category by the Reston Award Program. Each year, the Reston Award Program identifies companies that we believe have achieved exceptional marketing success in their local community and business category. These are local companies